Joined

Apr 7, 2021
Messages

112
Location
Alias

Goodwin
Hi, Being a relative noobie to pinball I researched the hell out of playfield cleaning and waxing.
With most of the waxes and products suggested on YouTube and other places online aren't easily available here in the UK.
So after a load of head scratching and probably leaving my playfield dirty for longer than I should due to decision paralysis I jumped in feet first and I bought all the following on Amazon in the UK:

Anti-Static Foam Cleaner (LINK)
Love this stuff, the US guys use either Naptha or Nuvos 1 for playfield cleaning. I've seen a couple of people use this foam and it worked a treat for me. Used in the corner first to test it wasn't going to strip anything and then went for it over playfield, plastics and even ramps. Worked great and easy to clean off with little mess as it doesn't run everywhere.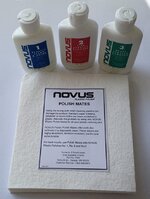 Novus 1, 2, 3 mini bottles (LINK)
Don't worry I bought as a kit and have only used a small spot of 1 and 2 on a stubborn mark since finishing my clean up. 3 I've used on other Game consoles and it will rip a hole in your playfield if you use it with any effort. Use 1 and 2 with caution, a solution for anything that the foam cleaner can't shift.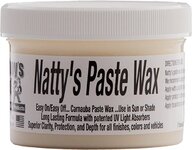 PoorBoy's Natty's Carnuba Paste Wax (LINK)
This was my biggest sticking point, I couldn't for the life of me find the Carnuba waxes being suggested, not without importing them and at a high cost. I researched loads of Carnuba waxes, both more expensive and some cheaper. This paste wax is great, only need a small amount on the cloth, polish in then light buff out and it came up great after 1 coat, given it a couple of coats now and it's looking glossy.
I am still very much a pinball noob, but used a lot of cleaning products and waxes on both classic and freshly painted motorbikes so get a bit obsessed in these areas.
Welcome any thoughts or a slap on the wrist if I've suggested anything wrong, just posting what worked for me and my experience with these products if anyone else is in cleaning paralysis like I was.
Edit: Video of the cleaning below now.
Last edited: